I had pretty much decided to forgo the garden this year due to lack of money - then when money wasn't as much of a problem, lack of time - but my blank, empty, boring balcony kept mocking me and I gave in. I'm so glad! A few fresh veggies and herbs to nosh and some pretty flowers to brighten the view make all the difference. It's just the right balance of plants to keep me entertained but not over-burdened.





Black Krim tomato and Anaheim pepper (foreground) with my hanging pot of petunias, dracena and ornamental black sweet potato.

4" long pepper and tiny new tomato (since yesterday 5 tiny tomatoes have popped out: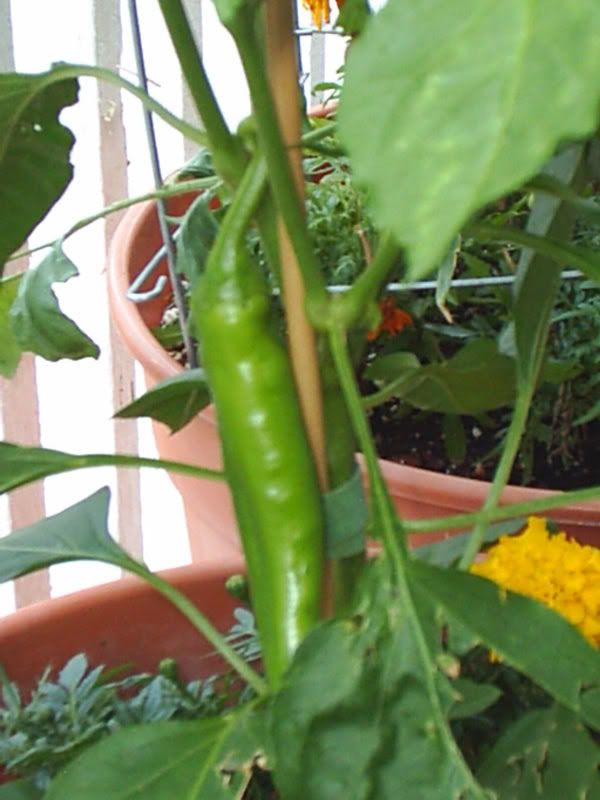 The other side of the balcony with my last minute purchase of a bush cucumber plus herbs and hanging flower baskets for cheery color:




The cucumber bush is loaded with blossoms: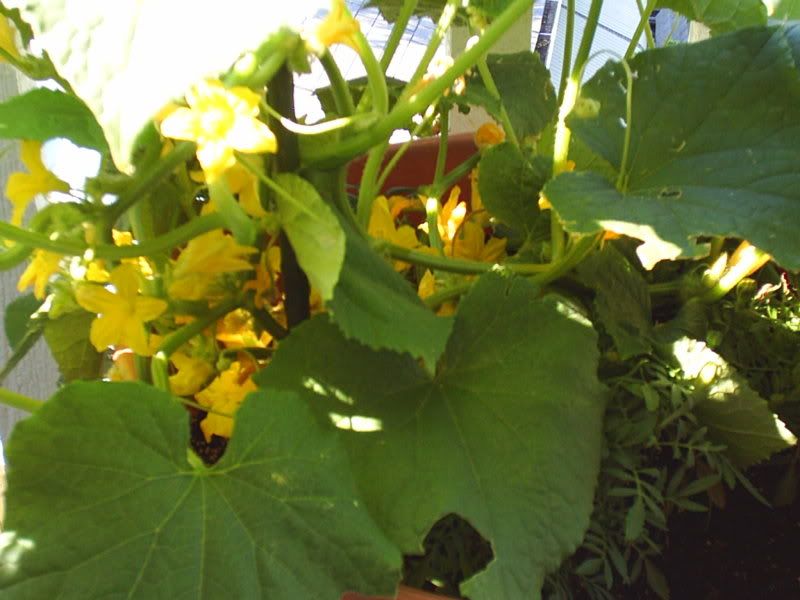 The cucumbers stayed miniscule for nearly a week, hardly seeming to grow, then beginning about 3 days ago they doubled in size each night:



This is my first year with the cucumber. I have no idea why I waited because I love cukes and if they remain as carefree as they have been and as prolific as they promise, they're going to be a prize!

My herbs left to right - basil, common thyme, rosemary, Greek oregano and my perennial garlic chive from last year (that I harvested all winter long when I brought it inside) peeking up from the bottom:


The thyme, rosemary and oregano are still in their original little pots. I'm getting a deeper box that can straddle the railing instead of perching on top this weekend. I'm also bringing it in this winter.

My other mixed pot of Italian parsley, sage and dill. The plants started tiny and just sat there for almost 2 weeks. They've tripled in size this week: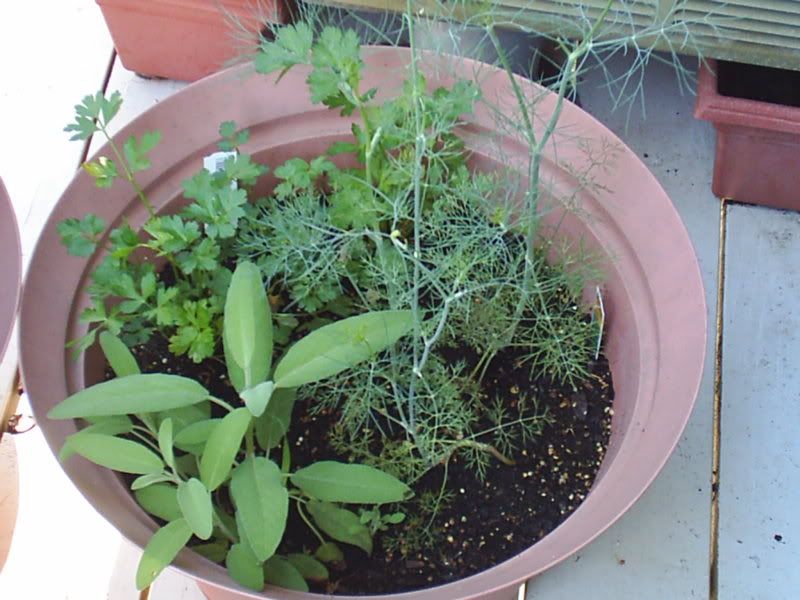 And since the garden isn't nearly as big as in years past I have plenty of unused pots. The birdseed from the feeder gets everywhere (it's rather ironic to have to weed container plants) but I noticed Phoukathecat likes the 'weeds' just fine. Better, in fact, than the wheat grass I buy him, so I sprinkled some in the big pot and it sprouts up thick and fast. He still likes to eat them but he loves lying in the cool, moist pot on the hot days. He'll stay in there for hours, snoozing away and occasionally reaching over for a nibble.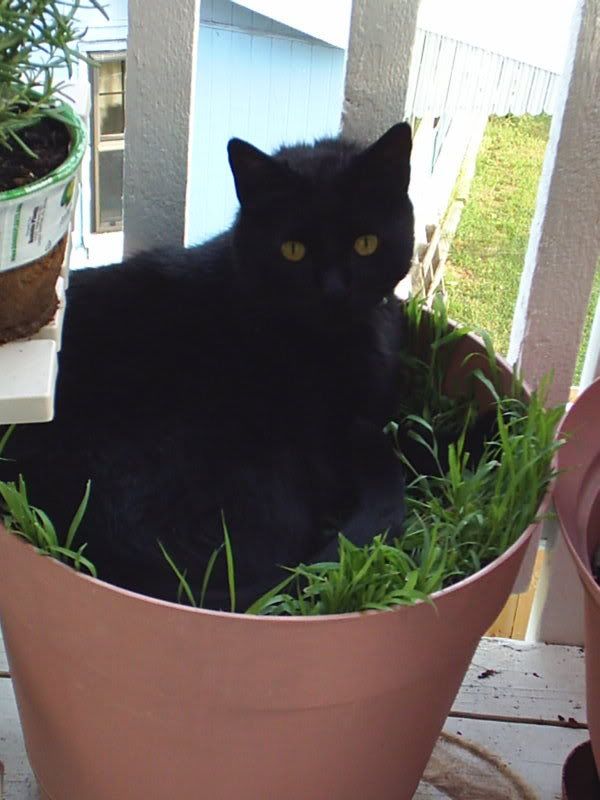 Plus it's right under the birdfeeder so he gets a nice show. I've sewn more seed in one of the unused, shallow window boxes for him to eat.

I'm also happy I decided to leave the bird feeder up. I usually take it down in the summer and just leave the water because the seeds invade my pots and grows like crazy forcing me to weed! But the little guys feeding are not only amusing for me, the keep Phoukathecat entertained for hours on end. The single grackle that found the feeder (he pays even more attention to the water) was OK, but he brought a flock of friends yesterday to I took the feeder down for the day. They either got the message (doubtful) or they have a look-out watching for movement and scatter when I'm around. *G*

My hummingbird feeder continues to be one of the best investments I ever made. I still find the little guys endlessly fascinating, esp the one that kept hovering down and peering in the balcony door yesterday. It seemed like every time I looked up there was the little Peeping Thomasina (Tom). The sight of them never fails to make me smile.